Frequently Asked Questions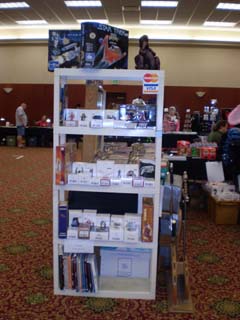 General
I disapprove of the content of this book, or of the author. Why are you selling it?
We sell a wide variety of books for a wide variety of audiences, including attendees of science fiction conventions, anime conventions, furry conventions, steampunk conventions, events of the Society for Creative Anachronism and metaphysical events. Selling a given book does not represent our endorsement of the author or the ideas within the book.

The Starship Cat is based in the United States of America. The First Amendment of the United States Constitution guarantees the freedom of the press, which includes the right to publish, sell and read books that are unpopular or that other people find disagreeable or distasteful.
This book is marked fifteen cents on the cover. Why are you charging over a dollar for it?
There are two reasons -- inflation and scarcity. Most of us are familiar with the problem of inflation. Things get more expensive over time. When that fifteen cent book was published, it cost six cents to send a letter and a gallon of gas cost less than a quarter. You only need to go to the post office or the gas station to see just how much those commodities have jumped.

Secondly, many older books have become scarce with time and thus difficult to find. Print runs in the 1940's and 1950's were typically quite small, meaning that there weren't that many copies in the first place. Since they were made with cheap materials to keep costs low, many of them have deteriorated or disintegrated altogether if they were not simply lost or tossed after the original purchaser was finished reading it. As a result, if a book has not been reprinted in a modern edition, scarcity drives the price up and more purchasers chase fewer copies.
I have an old book. Is it valuable?
It depends -- without seeing the book, it is impossible to estimate its likely value, and we are not professional appraisers of rare and antiquarian books.

In general, the scarcity of a given edition of a book and the condition of the copy in question will govern the value of a book. Many of the early science fiction paperbacks were printed in very small print runs, and a large number of those have since been lost or destroyed in various ways. By contrast, current publishers generally do not consider it worth their trouble to publish a book with a print run of less than about 20,000 copies (this is for traditional offset press printing -- publish on demand systems, which use digital xerographic technologies such as Lightning Press or DocuTech, are able to produce single copies as they are called for.

If a book (or a given edition of it) is in limited supply as a result of having been printed in a relatively small print run, and if it is much sought after, it is apt to command a relatively high price. However, the price that one can expect to ask for any particular copy is governed by the condition of that particular book. Particularly in the case of paperbacks, they were effectively created to be disposable, and thus the materials that went into them were generally of low quality (acidic wood-pulp paper, cheap binding glue, etc.) and relatively fragile. Unless a book was handled and stored very carefully, it is apt to become worn and thus less desirable.
Event Sales
What forms of payment do you accept at events?
We accept cash, Visa, MasterCard, Discover, and American Express.
Why have you stopped accepting checks at in-person events?
In the past, we had very little trouble with bad checks. Generally, the few times we did have a check bounce, it was the result of carelessness on the part of the purchaser in recording and reconciling their account, and was quickly rectified.

Unfortunately, that changed in 2009 when we had a purchaser buy a very large number of books with a check on a closed account. After repeated idle promises to send us a money order for the amount, the purchaser stopped responding to us. After pursuing legal recourse and discovering the system wasn't set up to deal with a small traveling merchant, we decided we would no longer accept checks.
Why aren't you attending (Event X) any more?
Over the years we have attended a wide variety of events, and while there are some events we do on a regular basis, others may have been a one-time experiment for us. Unfortunately, as the economy changes, some events have not been as successful as they had been in the past. As a result, we have had to remove a number of unprofitable events from our roster. From time to time we may return to an event to see if it works for us again.

The best way to make sure we keep coming to the events you attend is to buy our merchandise. You don't have to buy something expensive -- in fact, a large number of small sales makes us more confident of the long-term viability of an event than a few large sales, for the simple reason that we know we have a broad appeal among the attendees.
You had (Item A) at (Event X) last month. Why don't you have it now at (Event Y)?
Our stock varies from event to event for several reasons. First, many of our items are the only one we have in stock. When it sells, it's gone until and unless we can restock.

Second, we tailor the stock we take to any event to the tastes of the people likely to attend it. For instance, we have sub-collections of our book stock for specific types of events. Books on specifically metaphysical and occult subjects go to metaphysical events, while books related to the history and lifeways of the Middle Ages are taken to events of the Society for Creative Anachronism (SCA). When we go to an anime convention, we make sure to include all our manga and our anime novelizations. Similarly, we choose t-shirt designs that will appeal to the people we expect to attend the event.

Third, some of the merchandise is on consignment from other merchants we do business with. As a result, those offerings are entirely dependent upon what the consignor has available to send with us at the time. Particularly when our consignors are doing events of their own, they may have relatively little to send with us.

Finally, venues have different rules about what may or may not be sold. Some venues do not permit us to sell weapons. Others may not allow us to sell food or drinks. Some venues do not allow tarot readings or other occult activities.
How can I order (Item A) that I saw on your tables at at (Event X)?
Please contact us via e-mail and tell us what you were interested in. We will check that it is in stock and give you a quote on shipping. We can accept payment via PayPal or arrange for you to call us with your credit card number to put through our terminal.

Because we also sell on Amazon.com and eBay between events, it is essential that you mention the event at which you met us. This enables us to filter out people who are attempting to go around those venues' systems contrary to their policies.
Where can we see you next
Check our list of upcoming events
I'm an organizer at (Event X) and I'd like to have the Starship Cat as one of our merchants. How do I book you?
In order for us to decide to attend your event, we'll need some important information. Obviously, we'll need to know the cost and size of your booths or tables, and whether memberships are included in the cost or whether we will need to purchase them (and at what cost). Also, we need an estimate of the number of people you except to attend the event. This estimate should be based upon past years' attendance figures and current pre-registration figures. Blue-sky numbers based upon wishful thinking only result in disappointment and will make us much less likely to give an event a second chance if it is a loss.
Online Sales
How will my merchandise be shipped to me?
We generally ship our books by USPS Media Mail and non-media items (toys, collectibles, etc) by USPS Parcel Post. However, very small and light items (thin paperbacks, small toys, etc.) will often be shipped by USPS First Class Mail.

Because Amazon.com does not provide any mechanism for combining shipping charges on multiple orders, if you order several books at once, we frequently the additional shipping money to upgrade your order to USPS Priority Mail, which will get your books to you even more quickly.

When we ship your book, the Amazon.com communications system will send you a confirmation e-mail that will include a tracking code for your item. You can go to the USPS Website to track your item on the Delivery Confirmation system as it comes to you.
USPS Delivery Confirmation says that my merchandise was delivered to me, but I didn't get it. Where is it?
Sometimes other family members, roommates/housemates, or neighbors will oh-so-helpfully pick up your mail for you -- and then forget to let you know that it came and where they put it. So ask around.

If asking the other people who may have access to your mailbox doesn't turn up the missing package, go to your local post office and ask about it. Make sure to print up a copy of the confirmation e-mail Amazon.com sent you with your Delivery Confirmation tracking code. Be firm but polite in asking that they look for your missing package. If they stonewall, explain that you'd like to get this done in a quick and pleasant manner and really would prefer not to have to get Postal Inspectors involved.

If all else fails, file a stolen or rifled mail complaint with the Postmaster. Theft of the US Mails is a very serious offense, and you should not have to put up with it.
I found a book I want on your Amazon.com listings, but my credit card is expired and won't renew. Can I just order it directly from you and pay through PayPal? with a check? etc?
Sorry, but Amazon is very strict on this matter. It is a violation of the Marketplace merchant agreement to complete a transaction off Amazon -- and it would deprive you the customer of your protection under the A to Z Guarantee program. So don't even ask. Thank you.
Last updated October 16, 2013